Guide to Blackjack Games at BetSoft Casinos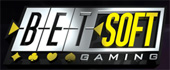 BetSoft is not a new software company, they were first formed in 1998 in the UK. Recently, they have become much more prominent in the casino industry – thanks to their amazing 3D slots and smooth playing table games. BetSoft one of only a handful of large casino software specialists which license their games to US players. They have mobile compatible games which use browser based technology to US players, and are also available around the world.
This page focuses on the blackjack games offered by BetSoft. First up below, you will see a quick history and overview of this innovative casino software house. After that I have gone through the blackjack games and highlighted the best titles. The other games (including the 3D slots) are covered after that – with a recommendation of where you can find BetSoft titles at the end of the page.
Overview of BetSoft
This casino software specialist was very much a niche player for years after their formation in 1999. The breakthrough game when technology improvements and better networks allowed for casinos to offer more reliable instant-play games. With the old downloads becoming unnecessary, BetSoft has come into its own. Their amazing 3D slot titles and table games have also been adapted for mobiles.
While some casinos run the entire suite of 130+ BetSoft games and slots, this is not the most common way of organizing things. You'll find that BetSoft is often added as an extra list of games for players, beside the Real Time Gaming or another downloadable suite. Bovada are an example of a casino which organize things in this way.
BetSoft are currently licensed in Curacao, Netherlands Antilles, and provide their games to US casino operators as well as international ones.
Blackjack Games at BetSoft Casinos
While there are a couple of annoyances, the voice announcements being a major one for me, the standard framework which the blackjack titles share at BetSoft is very smooth. There are larger buttons on the bottom of the screen which make the games suitable for touch-screen devices, and the animations are both fast and smooth.
There are several standard variations to choose from. You can select the US rules game (where the dealer checks for blackjack before the player acts) or the European rules where this does not occur. The minimum bet is $1 and the maximum $200 at most BetSoft casinos.
An interesting variation is the Burn 21 Blackjack. Here you are dealt 3 cards, with the last one face down. There is an additional 'Burn' button, which discards the top card of the two that are visible, and replaces this with the hidden one. This comes in very useful to discard a 5 (for example) when this is your top card.
Super 7's is a side-game variant, which gives you an optional extra bet. You get paid for any 7's which appear. This ranges from 3:1 for hitting a 7 with your first card, through to 5000:1 with 3 suited 7's. You can play this game for just $1.
Pirate 21 includes some enhanced payouts for 5, 6 and 7 card 21s which reminds me of the Super Fun 21 game. There is also a match side bet, which gives extra payouts for suited cards which match with the dealer's up card.
Other variations on offer include Single Deck Blackjack, Pontoon and a mini Blackjack game which is adapted especially for smartphones.
Other Games at BetSoft
The games that everyone who joins a BetSoft casino really wants to see are the 3D slots. These are completely different to the games you will find elsewhere, and really are a must-see even if you are not a slots fan yourself. They are mostly based on multi win-line 25 reel slots. It is the themes and animations which really make them stand apart. These are like animated movies or high-end console games with  creatures hosting the games in front of the reels and break out bonus round games.
In addition there are the usual selection of table games. Plenty of poker variations can be found, including Pai-Gow, Caribbean Stud and 3-Card Poker. There are European and US Roulette wheels, along with a multi-player 'Common Draw' game and 'Zoom Roulette' which has enhanced graphics. You'll also find Craps, War and Red-Dog.
A unique game is the BetSoft heads-up poker game. This is a casino poker variant based on Texas Holdem and includes amazing graphics. You'll even have the opportunity to try to bluff. Video Poker, scratch cards and Keno make up the rest of the impressive list of games.
Where to Play BetSoft Blackjack?
Bovada Casino is a veteran to the world of online casinos, and has a unique combination of games from BetSoft and Real Time Gaming Software. All of these games can be played in your browser window, moving on from the old requirement for a download. You can enjoy the full range of BetSoft blackjack games, and check out those amazing RTG offeres as well. Check out the excellent US friendly Bovada Casino review for yourself now!