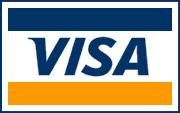 When it comes to deposit methods at US friendly casinos, credit cards are the option of choice for many. A good number of sites accept credit cards, including Visa, MasterCard and American Express, and of the three, Visa is the most accepted.
In this piece, I look at all aspects of depositing using Visa. First up I take a look at the deposit process itself. Then I move onto some problems you might encounter using a Visa card, and solutions to it. I finish with a look at choosing the right site for your Blackjack play.
Visa – The Deposit Process
The majority of sites will accept Visa as a deposit option, however you should check at the site first – deposit options are sometimes listed on the home page, failing this you'll find them on the financial pages. When a site lists Visa as a deposit option, you might find you'll be able to use a pre-paid or gift card alongside the credit card. You'll find that pre-paid or gift cards have to be available for international purchases at many sites, although for clarification you should check the individual casinos.
Before making a deposit at an online casino you'll have to register at the site first if you are not already a member. You'll then head to the cashier page and click on the Visa symbol. You'll be required to fill out a form where you'll supply the card number, the expiry date, the name on the card and possibly the CVV number (the 3 digit number on the back of the card). The final piece of information you'll need to submit is the amount. Check you have entered all of the details correctly, then go ahead and hit submit, and the funds will be in your casino account immediately.
Having deposited using a credit card, some sites might require you to verify the card by filling out a form and sending photocopies of both the card and a form of photo ID (a driving license for example).
Deposit Problems
In 2006 the Unlawful Internet Gambling Enforcement Act (UIGEA) was introduced, a ruling which prohibited payments from financial institutions to gambling sites. The effects of this ruling are still ongoing, particularly in the case of a credit card deposit, where on occasions depositors find that the payment can be declined.
If having problems making a deposit with a Visa credit card, your first step should be to contact the casino site itself as many sites will have a dedicated team who deal with the deposit process. Some casino sites, especially the larger sites, might have more than one payment processor, so they'll try your card using a different one – this might solve the problem immediately. Failing this, the customer service team will suggest a number of alternative deposit options. One of the most popular is via a person to person transfer as offered by companies such as Western Union and MoneyGram, where you'll make the transfer directly to the casino. Other options will include depositing by a bank draft or even a bank wire. The UIGEA has led to casinos offering a great variety of deposit options, so check individual sites for other alternatives.
Choosing an Ideal Site for Blackjack
Many sites will offer Visa as a deposit option, so you'll have a great amount of choice when deciding upon a casino. There are several factors you should consider when signing up:
Bonuses and Promotions – The bonus situation at online casinos is not entirely straightforward as some games will count fully towards clearing the bonus, others will count a reduced rate and some won't count at all. Unfortunately Blackjack sits in the latter two categories, this due to the lower house edge at this game in comparison to some other casino variations such as slots. Look for a site which offers a reduced rate bonus as opposed to no bonus at all – you might find a site where your Blackjack stake contributes around 10% towards bonus clearance. Promotions are a great way to boost your bankroll with many sites offering cashback, competitions, free spins and many other offers.
Range of Games – Consider what you want from the Blackjack itself. Do you want to play just a standard game, or do you want the option to play a range of Blackjack varieties. Some sites offer Blackjack in a live casino setting, with a real life dealer streamed directly to your device. Some sites will offer a great many options, whilst others are limited, so ensure you choose the best site in this regard.
Reputability – When joining an online casino you want to feel safe in all of your financial dealings with the site, knowing your funds are secure and that you'll be paid out with no problems. You'll also want to ensure that the games on the site are actually fair. Check that the site is licensed and registered in a known gaming jurisdiction and that they have a "fair gaming" certificate on the site. In general it's never a bad thing to use a site that has built up a good reputation over a number of years. If you have any doubts you could make use of an independent casino review site where you'll quickly find out if there are any issues surrounding a particular site.