Guide to the Blackjack Games at Real Time Gaming Casinos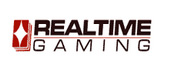 Real Time Gaming is the biggest provider of casino software to US friendly offshore casinos. They are a specialist software house, and do not offer their games direct to players. Instead these are licensed to casino site operators, either as the exclusive games suite or in combination with other software. There are 7 Blackjack titles on the RTG casino games suite. These are solid and professional games, which cover standard blackjack rules as well as some more interesting variations.
This page gives you a quick overview of Real Time Gaming before going into detail of the blackjack titles on offer. The other games on this software are then summarized. At the end of the page you'll find details of the single most popular US casino – which offers the full RTG suite of games and slots.
Overview of Real Time Gaming
RTG were originally based in the US. They got started in Atlanta, Georgia back in 1998. They were already an established casino games provider by 2006, when the 'Unlawful Internet Gambling Enforcement Act' made financial transactions between US banks and casino sites difficult. They relocated to Costa Rica, and were bought by a private company in 2007. Real Time Gaming is now licensed and regulated by the authorities in Curacao, Netherlands Antilles. They continue license their software to offshore casinos who take US players – arguing that the legality of player transactions is down to the individual sites and not their responsibility.
With a suite of more than 120 games, RTG is the single most popular software used by US friendly casinos.
Blackjack Games at Real Time Gaming
Table games in general are considered to be the strongest area for RTG casinos. These are simple graphically, though solid and easy to play. There are 10 blackjack and related titles available, here is what you will find:
Blackjack: This game is a standard American rules Blackjack game. The familiar dealer 'peek for Blackjack' will occur when the dealer has a 10 or Ace showing, insurance is offered when the up card is an Ace. Doubling rules are liberal, with the opportunity to double-down on any score.
European Blackjack: If you prefer the European rules, then this is also available at RTG Casinos. There is no peek for Blackjack here, the dealer only has an up card with the second card dealt after the players have acted. In this game you can only double-down on 9, 10 or 11.
Single Deck Blackjack: This game would be ideal for card counters, except that the deck is shuffled after each deal. This is US rules, with just one deck in play.
Double Deck Blackjack: As above, with 2 decks instead of the usual 8.
Perfect Pairs: The most popular Blackjack side bet is based on whether you will be dealt a pair. This variation combines the US Blackjack rules with the Perfect Pairs side-bet for that extra level of entertainment.
Match Play 21: This game is also known as Spanish Blackjack. There are no 10's in the deck in this variation. To balance the extra edge this gives to the house there are enhanced payouts for hands with 6 cards and specific 6-7-8 and 7-7-7 hands – going up to 40:1 for 3 suited 7's with the dealer also showing 7 as an up card.
Face Up 21: Both of the dealer's cards are face up in this game, which turns the usual strategy on its head. This means you can see when you are beaten in advance, so you'll sometimes need to hit and hope for a baby card to hit.
Super 21: This game is also known as 'Super Fun 21', it includes some extra rules with bigger payouts for certain hands. The most interesting change is a late surrender option called 'Double Down Rescue', this allows you to forfeit half of your bet after a double if you get dealt a bad card. 5 and 6 card 21's get extra payouts too.
Pontoon: Very similar to blackjack, Pontoon has its own terms (Twist instead of hit and so on). In this game the dealer's cards are face-down, and you'll get an extra payout for a 5 card hand too.
Zappit Blackjack: This is the latest game and is compatible with mobile devices. The big change here is that a 'Zap' button appears when you hit 15, 16 or 17 in your first 2 cards, hitting this swaps your cards for new ones.
Other Games from Real Time Gaming
There is a full suite of games to play, including multiple versions of the popular table games. Casino poker is well served, with Tri-Card Poker, Caribbean Stud, Holdem and Draw, Let 'em Ride and Pai Gow all available. There is a choice of European or American Roulette, and several other games too, including Red Dog, War, Rummy and Craps.
The slots range from Real Time Gaming is very distinctive. There is a huge list of 5 reel video slots which share the same platform and many visuals. These are themed and very easy to play. Many of the slots have big progressive jackpots, which are triggered at random. Look out for games in the 'Real Series' which are the top-end slot offerings.
Video Poker includes 17 different titles, and you will also find Bingo, Keno and Scratch Cards in the RTG games collection.
Best RTG Casino
Bovada are the single biggest casino brand welcoming US customers. This casino was rebranded from the name Bodog, and remains part of the Bodog family. Not only will you find the full suite of RTG games at this casino, there are some extra titles from rival software company BetSoft too.
Payments are easy at Bovada, and their bonuses – especially the list of ongoing promotions and loyalty deals – are second to none. Check out the RTG games for yourself now at www.bovada.lv.