Zappit Blackjack is a game found at Bovada and Bodog online casinos, as well as some land-based casinos. Zappit Blackjack allows players to eliminate or "zap" cards from their hand, replacing them with two random cards.
Rules offset the advantage bestowed by zapping cards, but the rules provide an entertaining and popular variant of blackjack. Zappit Blackjack is a game which Geoff Hall created, then sold to Scientific Games in its Shuffle Master era. Geoff Hall is famous for have invented Blackjack Switch, as well. You can play Zappit Blackjack for real money.
Blackjack Variations: Fast Paced Mobile Blackjack Game with a Zap Feature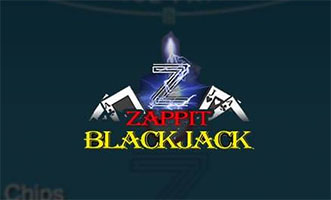 There are plenty of variations of Blackjack available online, however none have come up with fresh new angles on the game in recent years. Zappit Blackjack is a brand new mobile-friendly game available at Bovada Casino, which includes an excellent new innovation – the Zap Button.
In this game you can choose to 'Zap' any 2 card hand totaling 15, 16 or 17. These cards are then replaced. This gets rid of a lot of those tough marginal decisions, which makes the game both faster and more enjoyable.
This page takes you through a hand of Zappit Blackjack, and then explains a little more about the US casino offering this game – Bovada.lv.
How to Play Zappit Blackjack
The setup for this game is very simple, which is one of the reasons it works so well using the browser-based instant play mobile technology.
Step 1: Start Your Hand By Placing a Bet
You are playing a single hand against the dealer, with stakes starting at $1 and going up to $500. You tap on a chip icon and then tap on the bet circle to place it, then hit the deal button.
Once the round is over, you can use the rebet button to bet the same amount again to start a new hand.
Step 2: Get Dealt Two Cards and Player Options
Next the player and dealer both get dealt 2 cards, with the dealer having one card hidden and all others face up.
For most hands, the game proceeds like any other blackjack game, with the player choosing to:
Hit
Stand
Double
Split
Surrender
These options depend on your cards and the dealer's up card.
Step 3: Using the Zap Button to Get New Cards
Where things are different is the 'Zap' button, which comes into play if the player has 15 through 17. Hitting this discards the current 2 cards and deals two more. The only negative of doing this is that any 2-card 21 you get after you use the Zap button is just a plain 21 hand, and does not count as a 'Blackjack' and receive the usual 3:2 payout.
Step 4: Doubling and Splitting in Zappit Blackjack
Players can double down on any total (US rules) in this game. This involves placing an extra bet of the same stake as played and receiving just one card in return. Splitting rules are a little more complex, with up to 3 splits allowed and only one card given to split aces (again, 21 does not count as Blackjack). Aces cannot be resplit in this game.
Step 5: Comparing Hands Against the Dealers
Once you have finished making your decisions and are still in the game, it will be the dealers turn. If the dealer:
Gets over 22: he busts and the player wins automatically.
Gets 22: the dealer Pushes.
Gets a value above players hand: the house wins.
Gets a value velow players hand: the player wins.
Now that you have won and gotten paid, you can start the next round.
Zappit Blackjack Rules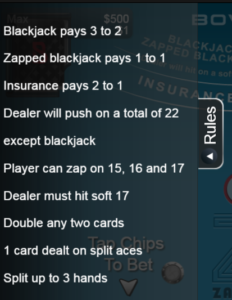 There are a couple of Zappit Blackjack rules you need to be aware of. Most Zappit Blackjack's rules are the same as classic blackjack, with two major alterations. The one definitive rule for Zappit is the ability to zap cards if their combined value falls within a certain range, usually 15 to 17. As these are bad hands for a player to hold, they can get rid of the hole cards and receive another pair of cards.
Rule #1 – Dealer 22 Counts as Push
If the dealer 'busts' with exactly 22, this is considered to be a push with all live player hands (21 and under). This is not a player friendly rule, and is designed to balance the extra value that players get from being able to 'Zap' hands – especially the 15 and 16 totals.
The dealer will hit on soft 17 in this game, which is the better version (standing on soft 17 adds a small increment to the house edge).
Insurance is available if the dealer shows an ace. This bet has a huge house edge of more than 12%, and should be avoided.
Zappit is a very fast and very entertaining mobile Blackjack variant. I recommend you check it out for yourself soon over at Bovada.lv.
Rule #2 – Zapping Two Cards
The player may zap a 2-card hand when holding a hard 15, 16, or 17, and receives 2 new cards.
Rule #3 – No Zapping Exchanged Cards
The player cannot zap cards which have been exchanged already. Like in draw poker, you get only one redraw.
Rule #4 – 21 After Zapping
If a player receives a 21 after zapping a hand, it is not a blackjack and instead pays 1 to 1.
Rule #5 – Dealer Peek
Some casinos have 'dealer peek' rules, while others do not.
Rule #6 – Zappit Hand Payouts
A winning hand pays 1 to 1. Insurance pays 2 to 1. Blackjacks pay 3 to 2.
Strategy to Use When Playing Zappit Blackjack
Most games of Zappit Blackjack are played with 6-deck to 8-deck hands, while the dealer hits on a soft 17. The Zappit Blackjack strategy below is based upon those rules. Additional Zappit Blackjack strategy instructions are given for rule variations in which you can zap with a hard 18 or when you have pairs. While these do not exist at Bovada or Bodog right now, they are found in brick-and-mortar casinos and might be adapted for online blackjack later.
Zap your hand anytime you hold a hard 15, 16, or 17 and the dealer is showing any card.
Zap your hand if you hold a hard 18 and the dealer shows an 8, 9, 10, or ace. If not allowed, stand on a hard 18.
Stand if you hold a hard 18 and the dealer shows an ace, 2, 3, 4, 5, 6, or 7.
If holding an 8-8, zap your hand (if allowed) when the dealer is holding a 2, 3, 4, 5, 8, 9, 10, or ace. Split when the dealer is showing a 6 or 7.
If holding a 9-9, zap your hand (if allowed) when the dealer holds a 9, 10, or ace. Split when you have a 9-9 and the dealer shows 4, 5, 6, or 8. Hold when the dealer shows 2, 3, or 7.
Zappit Odds and Payouts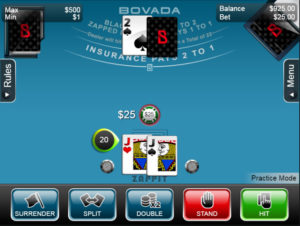 Bovada Zappit Blackjack has a house edge of 1.15%. This makes the game comparable to the banker bet in baccarat, while it is better than the best bets in craps and worst bets in baccarat. Zappit Blackjack has a better house edge than roulette, all table poker games, slot machines, and many video poker machines.
Several versions of Internet blackjack have a better house edge than online Zappit Blackjack, but the game provides entertaining new rules and odds that are still quite good. The house edge for land-based Zappit Blackjack is 1.24%.
How Often Should You Zappit?
Using optimal strategy, players zap 20.7% of the time playing against Bovada/Bodog rules. In the land-based Zappit Blackjack version rolled out at Global Gaming Expo a few years back, optimal strategy results in zapping 19.7% of the time. The difference is Bovada players can zap against dealer blackjack, while the G2E version does not allow it. Zappit Blackjack at Bovada is the more advantageous rule. To avoid frustration, players should keep in mind the frequency they can expect to see a dealer 22 — about 1-in-7 hands. The dealer receives a 2-card hand of 22 on 7.26% hands, while the dealer receives a 22 on hands with 3 or more cards 7.62% of the time.
Blackjack Zappit Payouts
Zappit Blackjack's payouts are the same as in classic blackjack: 1 to 1 for winning hand and 3 to 2 for a natural blackjack. Read specific Blackjack Zappit rules to learn about payouts on insurance.
Play Zappit Blackjack at the Bovada Casino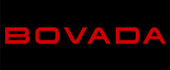 When you play Zappit Blackjack at the Bovada Casino, expect to see the house rules below. The posted rules include those described above, which includes zapping a 2-card hand on hard 15, hard 16, and hard 17. House rules for Bovada Zappit Blackjack also allows dealers to push when holding a 22. In the space below, I list the min/max bets at Bovada, along with the best bonuses for blackjack play. Bovada Casino's Zappit Blackjack has coin denominations of $1, $5, $25, $100, and $500.
Betting Limits: $1 minimum, $500 maximum
Casino Bonus: $3000 welcome bonus, $5000 bitcoin bonus
Popular Deposit Methods: Visa, MasterCard, American Express, Bitcoin, Bitcoin Cash
Zappit Blackjack Rules at Bovada Casino
The player is allowed to split aces, but cannot re-split aces.
Players may double after a split.
Split aces receive one card apiece, but no more.
If the player receives a 10-value card with a split ace, it is not considered a blackjack.
If the player and the dealer both hit a blackjack, it is a push.
Receiving a 2-card 21 is not considered a blackjack after zapping cards.
Player may surrender, though it is inadvisable.
The dealer hits on a soft 17. When the dealer busts on 22, the hand is considered a push.
A winning hand pays 1 to 1. Insurance pays 2 to 1. Blackjacks pay 3 to 2.
Other Blackjack Games at Bovada
This US-only casino have a range of Blackjack titles to offer. Most of these are from the respected RealTime Gaming software suite, with a mini-Blackjack game for mobiles from the acclaimed BetSoft.
There are the standard US and European rules Blackjack games, and some of the popular variations alongside these. Match Play 21 (which is Spanish 21), Face-Up 21 and Pontoon are all on offer.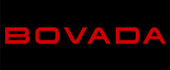 Bovada Casino is a trusted brand which were previously marketed under the Bodog brand. You'll find a huge list of games here, ranging from table games through to the very latest 3D slots. With generous bonuses and easy payment methods, it is no surprise that Bovada has become the single biggest US friendly casino brand. Make sure you check them out for yourself at Bovada.lv.