10 Winning Pieces of Advice for Blackjack Players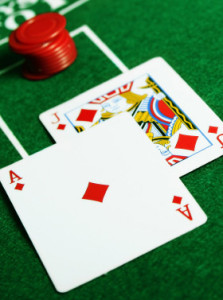 Blackjack is a highly enjoyable game which combines elements of skill with luck. The game remains one of the most popular table games after being played for centuries in casinos across the world and being studied in great depths by mathematicians and gambling experts.
Below you can find some key tips learnt by others throughout the years, which can help you enjoy game a bit more and stand a better chance of cashing out a profit.
1 – Always assume the next card to be drawn will have a 10-value. Unless you have been keeping track of the cards drawn, the probability of drawing a 10 is far higher than other cards with 10s, Jacks, Queens and Kings all having the value of 10.
2 – Card Counting is not illegal or against the rules of blackjack. Despite this it is not advised in most modern casinos as they are watching carefully for it and view it as an advantage play. You may be asked to leave the table or even the premises if you are caught, which they are perfectly in their rights to do as you are on their private property.
3 – The more decks which are in play the more disadvantageous it is for the player, both from a mathematically point of view and with their ability to card count. The flip side of this is it is easier for you to be cheated by a crooked dealer who uses a handheld single deck, although this is unlikely is a reputable establishment.
4 – Do not split 10s or 5s. Two 10s total 20 which is statically a winning hand by itself. Meanwhile if you hit or double on a pair of 5s and hit a 10 you have a potentially winning hand, whereas if you split and hit two 10s you have made two weak hands.
5 – Always split 8s. A total of 16 is the worst hand in blackjack. By splitting you give yourself the chance of improving and possibly winning at least one hand, meaning you would break even.
6 – It is rarely a good idea to take insurance. Normally this is a 'sucker' bet, where you are giving the house an even greater advantage. The only time it should be considered is when the deck, or shoe holds a high number of 10-value cards.
7 – There is no betting system which is profitable in the long-term. If you use a Martingale-based strategy, where you double your bets each time you lose until you win, will eventually encounter a run of cards you cannot afford. A simple $10 bet can become a $5120 bet after losing 10 times and you would have already lost $5110. While the percentage chance of this happening is less than 1% runs like this can occur, plus the table limit may prevent you wagering high enough to keep the system running.
8 – Do not play drunk and try not to get emotional about the outcome of cards. These can both cloud your judgment which can result in recklessness in your betting or actions.
9 – There is no such thing as a lucky or unlucky deck, table or dealer. The cards are not influenced in any way whatsoever by any mysterious force, they are shuffled to create a random deck then dealt one at a time. If you are keeping track it is perfectly fine and correct to say a deck or shoe is 'rich' in 10s or aces, although this is a logical conclusion you can come to using observation and experience.
10 – Play within your bankroll. Set aside an amount you wish to gamble, one that you will not miss if you lose, and use this to play with. To get the most enjoyment out of the game make sure your bankroll is big enough to endure a bad run of cards, 40 bets should be your minimum amount to begin with. Also realize there is a natural house edge to blackjack, so no matter how large your bankroll if you play for long enough you will eventually lose it, although you can experience some profitable upswings along the way.
10.1 – Take advantage of the bonuses offered to you by online casinos. While playing and practicing online can be great fun and easily accessible, it can also substantially increase your bankroll. Many offers will match your deposit by 100% while others can give you 200% and even 400% matches, giving you significantly extra to play with. These offers all come with some form of wagering requirements and some do not even include blackjack, so make sure you check the fine print and shop around for the best deals.