Guide to Blackjack Games at Rival Gaming Casinos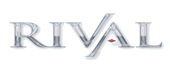 Rival Gaming are a US friendly casino software specialist which license games to more than 40 online casino operators around the world. They are best known for their range of slots in the 'iSlots' range. These combine video slot technology with a story line or adventure which players progress through. You'll find a small number of blackjack games at Rival Gaming casinos. The one thing really like about these games is that they are fast. This is ideal if you want a quick session, or just do not like to wait around while cards are dealt or bets are settled.
This guide gives you information on Rival gaming and in particular their blackjack games. First of all the history and background of this company is covered. After that I have reviewed each of the Blackjack titles in turn, before summarizing the other games available from Rival.
Overview of Rival Gaming
Rival Gaming are a truly international company. They were formed by Canadian citizens back in 2006, though are based in Cyprus and licensed from the Caribbean nation of the Netherlands Antilles.
There are a total of 150 games (and counting) in their suite, many of which are compatible with mobile devices. Rival produce a bespoke casino management system, which handles all the player account details as well as the games. They are not yet as well-known as other US friendly casino software providers such as Real Time Gaming or BetSoft, though already have 40 casinos using their systems.
While iSlots are the main talking point for this software house, there are plenty of other game options. These include 5 and 3 reel slots, Video poker, Bingo and scratch cards and plenty of choice when it comes to table games too.
Blackjack Games from Rival Gaming
You only have 3 blackjack titles to choose from at this casino, and these are very professionally put together titles. The key phrase to describe them is 'fast'. Everything from the deal of cards to the settling and placing of bets happens right away. If you compare these games to just about any other casino you'll feel the difference right away.
The main game is simply called Blackjack, this is the standard US game which includes a 'peek' for Blackjack. The minimum and maximum bets are set to $1 through $500. There are no side bets or other gimmicks with this game, it is pure and simple US Blackjack.
The other PC variation is multi hand Blackjack. This is essentially the same game with the same graphics and game-play, only it allows you to bet up to 3 hands against a single dealer hand. This is also a very fast game.
You can also find a mobile compatible mini-Blackjack game which will adapt to the screen size of your device. Again this is offered as a simple US Blackjack game with no side bets or other changes.
Hopefully there will be some variations on offer soon. It seems like the hard work has been done in developing the base games and graphics. Surely adding some new rules for Spanish 21, Pontoon or Face-Up 21 could not be too difficult from here.
Other Games at Rival Gaming Casinos
With 150+ games, there is plenty of choice at Rival gaming casinos. The first thing that most new players head for are the famous 'iSlots'. These are colorful 5-reel video slots with interactive bonus games and changes as you go through different stages of bonuses. There are 'storylines' in a loose sense, though most players will experience these just as different bonus games. Some great examples are the golf-themed 'Back 9' and cartoon aliens of 'Cosmic Quest'.
There are a lot more slots outside of the iSlots titles. Unusually, the 3 reel slots get a lot of attention here. Some are the traditional games where you line up the 7's, while others have colorful and quirky themes. This concept continues to the 5 reel slots, which include the 'Money Magic' progressive.
Table games are a little more limited than at some other casinos. All of the most popular games are included in the lineup though. There is a choice if US and European Roulette, several casino poker games including 3 Card Poker, and Caribbean Stud – plus Craps, Baccarat and Pai Gow.