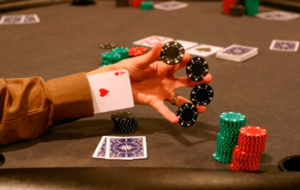 Over the years, casinos have been in an 'arms race' with cheats in many different games, specially card-games (such as cheating in Blackjack). Technology has been on the side of the casinos, with electronic cameras now on every table things are more difficult for potential cheats.
The difficulty does not deter aspiring card counters and worse from trying their luck at the tables every year, still today learning how to cheat at Blackjack (or any other casino games) is something many people want to try.
An Overview of Cheating at Blackjack
There are four main areas in which historical cheating has occurred at the blackjack tables. These are:
Switching cards or chips
Counting cards (not strictly cheating, though not appreciated by casinos)
Other forms of team play.
This article will cover each of the strategies for cheating in blackjack and it will mention some of the best-known cheats through the years, finally, it will mention some of the cheats that have been used by some unethical dealers (or casinos).
Blackjack Cheats – Card and Chip Switching
One of the most basic ways of cheating in the Blackjack table is with the chips. When conditions are favorable – for example, the dealer shows a mid-rank card – then a quick-handed cheat might add an additional chip, or swap a red ($5) chip for a brown ($500) one.
Without an astute dealer, this could easily give a big edge to the players on its own. Electronic surveillance makes this very difficult in the big commercial casinos nowadays, though it might still happen in unregulated underground games.
Cards can also be manipulated in this way. The classic example is a fast cheat switching cards between hands. There are many examples from history where a player palms a favorable card (hides it in their sleeve for example) and adds it to a hand to make a winner at some point down the line.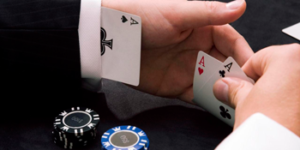 Both of these examples could benefit from having a second player deliberately distract the dealer.
When the dealer is in on the deception though, things get even more complicated. There are many more ways in which the cards and bets could be manipulated by the dealer, which will discuss later.
Cheating in Blackjack – Card Counting
This is not officially cheating, and unlike the other blackjack cheating strategies, is not illegal. Blackjack card counting involves keeping track of the big cards in the deck, looking for mathematical situations where the deck becomes 'positive' for the player.
At this point, stakes are raised while the mathematical advantage is with the player and not the house.
Casinos do watch out for card counters, who use a variety of techniques to track the count. When caught they will be asked to leave the casino, and if they return the casinos can legitimately charge them with trespass.
The most famous card counters were the MIT Blackjack team, who were the subject of the movie '21', and the book 'Bringing Down the House'
Card counting will not work with online blackjack games since the decks are 'shuffled' between each deal. Even live dealer online blackjack games protect themselves by shuffling the 8 deck shoe at the halfway point.
Cheating in Blackjack – Card Marking
Marking cards, either physically or with special luminous dies, has been going on ever since real money gambling got started. There are many ways this can happen, some high tech and some low.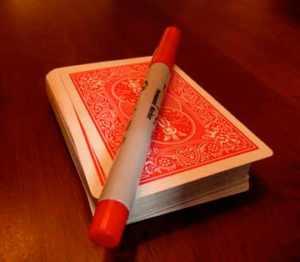 The most basic format is to scratch or prick a card with a pin while playing. You do not need to mark too many cards to bring a significant advantage to the players in blackjack.
If you are using a deck that a cheat could have manipulated beforehand, then look out for blocks of color on the back, or even parts of the patterns that have been removed. Even small changes can indicate a certain card.
More recently, special dies which can only be seen with particular contact lenses have been used. There are even dies which can only be seen by special security cameras, and not by people at all.
Cheating in Blackjack – Team Play
All the cheating blackjack techniques mentioned so far can be all be carried out by an individual. Adding more people to form a team can turn a small mathematical advantage into a huge edge.
The most common idea here is to employ a 'spook'. This is someone who is not involved in the game, whose role it is to spot the dealer's down-card and then signal this to someone who is playing. Nowadays, casinos have measures to prevent this.
Teams can also be used to distract the dealer while someone adds or removes chips from the table. Card counting also benefits from teamwork, as this means that one player alone does not need to make a sudden increase in the amount that they bet.
Online Blackjack Cheating – Is It Possible?
You've probably seen advertisements for a "blackjack cheating app" or "blackjack cheating devices". For the most part, blackjack cheat apps on iTunes or Google Play provide nothing more than easy access to basic strategy cheat sheets on your smartphone. "Black Jack Cheat Sheet" by Jeremy Breaux on iTunes or "Blackjack Cheat Sheet" by Wanted Star on Google Play are good examples. Some, such as "BlackJack Cheats Free" by JustInG, are tools that help you count cards. Both are useful, but the card counting apps are the ones which give a player a theoretical advantage.
Tools for Cheating in Blackjack
To find online blackjack "cheating" tools, look for gaming apps which discuss the HiLo method, the Hi-Opt-I, Hi-Opt-II method, or the Omega II method. These are techniques for counting cards, which is possible in a live dealer blackjack game. Don't use them at online casinos or mobile casinos with video simulations, because the RNG reshuffles the deck each hand. Also, don't walk into a brick-and-mortar casino with blackjack card counting app on your smartphone because that will be conspicuous and it actually might be illegal.
Blackjack Cheats Done by Online Players
Each casino game has cheats of some kind. Edward Thorp, the MIT Blackjack Team, the Four Horsemen, and Ken Uston are famous card counters, though they would say they didn't cheat to win. Tommy Glenn Carmichael, Ray Ming, Mike Balsalmo, and Ramon David Pereira are famous slots cheats. Roulette cheats have won use techniques like sector targeting, wheel gaffing, top-hatting, and magnetic balls. Craps experts like Stanford Wong believe dice control helps a dice shooter win consistently.
Successfull Online Cheats
Successful blackjack cheats done by online players have been rare, but possible. Most RNGs are not true random number generators, but instead, use some manner of looping pattern of numbers to generate supposedly random results. An online tool which can determine the pattern can predict the RNG's results, but that is next to impossible. Online RNGs' list of random numbers is very long and many RNGs produce thousands of results per second. The programming skill needed to break that code is high.
Blackjack bots: They can be used to create optimal play in online blackjack casinos. The bot determines the right time to hit, stand, split, or double in every instance. This means you achieve optimal or perfect basic strategy, reducing the house edge to its lowest theoretical amount. Blackjack bots reduce the house edge to somewhere around 0.5% in the best versions of blackjack but does not give you an advantage. Once again, if you want an advantage, you have to count cards, but it is possible to count cards with online live dealers.
Blackjack Cheats Done by Online Casinos

Online casinos make money by setting a house edge and marketing their games to a wide community of players. Online casinos which cheat or set the house edge too high tend to run off customers, something that is bad for business. It is possible for online casinos to cheat and certainly some have cheated players, but it's rare. Word gets around quickly and popular, famous online blackjack casinos protect their reputations jealousy.
Absolute Poker
A few famous online casinos have gotten caught cheating in blackjack and other games. In 2007, Quebec-based Absolute Poker had a cheating scandal. Marco Johnson thought certain hands in an online poker tournament with a $30,000 prize were suspicious. Johnson asked for a printout and Absolute Poker provided him with a detailed hand history, including the hands played by other players.
The eventual winner, Potripper, had illogical plays that turned into wins. Johnson has poker pro Serge Ravitch and gambling analyst Michael Shackleford look through the data and they determined that cheating had occurred. An investigation tracked the IP address of Potripper back to the computer of Absolute Poker co-founder Scott Tom and account of AP Director of Operations AJ Ripper.
It was determined that the site's owners were playing in tournaments and cheating, which cost players up to $500,000 to $1,000,000 in winnings. Absolute Poker refunded players $1.6 million and received a $500,000 fine. Absolute Poker claimed a disgruntled employee hacked the computer to "make a point".
Ultimate Bet
Ultimate Bet had a similar scandal in 2008, in which Ultimate Bet employee Russ Hamilton used software to see the hole cards of all competing players. Both companies faced serious backlash from the scandals. When Black Friday came, Ultimate Bet and Absolute Poker were two of the companies which did not have the funds to pay back players, though the number of players were greatly reduced, because many left their poker networks after their scandals.
In over 20 years of online gambling, no similar blackjack scandal has ever occurred with an online casino. It's noteworthy that the Absolute Poker/Ultimate Bet scandals are so infamous because they are so rare. Online blackjack bettors should feel secure that their games are fair, at least if you play with popular casino operators that are licensed by legitimate regulators and are well known in the gaming community.
Famous Blackjack Cheaters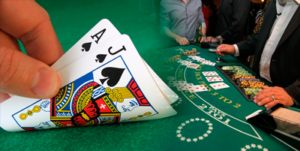 There have been some real legends in the world of casino cheating over the years. While cheating is seen as negative by most players, these people have entered folklore history as the people who managed to break the casino.
JP Massar who ran the infamous MIT Blackjack team is probably the most famous of all. Though counting is not officially cheating, he certainly organized things in such a way as to take the casinos for a lot of money.
Dustin Marks also made millions, though from the other side of the table. He cheated from the position as a dealer, using rigged decks and switching cards. His fascinating story has been published in two books, 'Cheating at Blackjack & Other Casino Games' and 'Cheating at Blackjack Squared: The Dark Side of Gambling'.
Joe Classon ran a famous pass posting team. This form of cheating involves adding chips after the betting is supposed to be closed. His team got away with this for decades and made millions in the process.
Cheating in Blackjack – Dealers & Casinos
The phrase "dealing from the bottom of the deck" exists for a reason. In single-deck blackjack, the dealer holds the deck of cards while dealing. Deft blackjack dealers can deal from the bottom of the deck if they see it is a bad card for a player. Old time dealers who worked when the mob ran Las Vegas casinos say their managers urged them to cheat at blackjack, so this practice was common.
In the time when corporations run Las Vegas casinos and shareholders are most important, keeping everything above-board is important. Any action that could cause the Nevada Gaming Commission or Nevada Gaming Control Board to withdraw a license is not going to happen.
Safety of Casinos
With online and brick-and-mortar casinos, the legit operators do not want to risk their license or their reputation. Many online casinos are traded on the London Stock Exchange. Many are licensed by the UK Gambling Commission, Gibraltar Gaming Authority, or Malta Gaming Authority. Those operators don't cheat. That being said, casinos always try to get an advantage on players with special house rules. Know the rules online and land-based casinos use to increase their house edge over blackjack players and avoid those games. Here are some casino tricks and how to spot them.
Ways the Casino or Dealer Can Cheat
Hyper-Shuffling: The oldest way to cheat is hyper-fast hands of blackjack. A casino has the house edge, so the quicker the dealer deals hands, the more money the casino makes. This is why I advise against using the auto-play feature in online blackjack games.
Sleight of Hand: This is the old-fashion dealing from the bottom of the deck. The best way to avoid sleight of hand is to avoid drinking too much while playing because a tipsy player is a temptation to a corrupt dealer.
Selective Shuffling: Casinos tend to have rules for when they reshuffle the deck, often after 50 to 60 cards or after 75% penetration of the deck. When a pit boss thinks a player is counting cards, he or she will order an immediate reshuffle. In online blackjack, the deck is reshuffled each hand by the RNG.
Removing Cards from the Deck: Back in the old days, Las Vegas casinos were caught removing cards from the deck. If you remove tens, jacks, queens, kings, or aces, then the instances of blackjack 21's happen less. This increases the house edge against the player.
Multi-Hand Blackjack: Multi-hand blackjack isn't cheating per se, but it is a way to increase the effective house edge on players. High rollers who want to increase the bet maximum on their game should play multi-hand blackjack. If you are a penny player or a mid-stakes player, avoid multi-hand blackjack. This increases the number of hands played, which is not to your advantage.
6:5 Blackjack Rules: This isn't cheating, but it's something to spot. One of the rules with the biggest effect on a game is changing the payout for a blackjack from 3:2 to 6:5. Land-based casinos often offer single-deck blackjack with 6:5 rules, which is worse than multi-deck blackjack with 3:2. If you find an online casino with 6:5 blackjack rules, avoid it.